Last year some time I purchased some Pendraken 10mm WW1 figures, painted a few up and then promptly did nothing more with them.
It seems I have been caught up in the WW1 spirit of things again, a good part of which could come from the fact I commanded the gun crew firing the commemorating the 'First Shot' of WW1 made by the allies 100 years ago:
You can't see me in this photo as I was in the No.1's position which has be hidden by the second gun.


What I am looking for is a set of rules to play games from Brigade to Division level.
I have 'Over the top', 'Trench' & 'World War 1 Wargame Rules' all of which I don't have much of an opinion, except for 'they are not for me'.
The Two Fat Lardies rules and the GW rules don't appear to be a the level of units I want to play, so I have dismissed those out of hand.
I was looking at "Crush the Kaiser" but any lack of review on the actual game mechanics is making me hesitate at spending $55+ on the rules in the hope I will like them.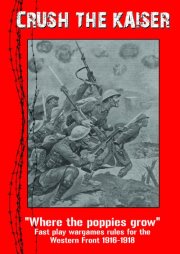 If anyone reading this has played them, or better still, owns them, could they please offer up a review on the mechanics and the basing etc.
I do have a copy of "Flanders Fields" that was a free download found in the Pendraken Forum. These seem to be the main contender for the rules I will use, but I want to do my research on rules available before making my mind up 100%.
In the mean time, I will plod away at painting my miniatures and plan my trenches - I have an idea for using two layers of foam card to make my playing area. I just need to base some figures first to see if it is feasible.
And help or suggestions on rules and scenery greatly appreciated.